10 Ideas for Boosting Sports Fan Engagement During the Pandemic
ObjectStyle has been working with clients in the sports industry for nearly 20 years. We are pretty familiar with it!
Since the pandemic began, sports leagues and clubs have been working to keep fans engaged, doubling down on the use of digital channels because the opportunity to organize physical events is limited.
So what exactly have various leagues and clubs been doing? In this article, we have gathered sports fan engagement ideas. Some are low-hanging fruit, while others require significant investment. Without further ado, here they are:
1. Think athlete-led content
Fans prefer to connect with concrete players rather than the club or league. Fans view athletes as role models and ambassadors for their team. Some players are even more popular than the organization they represent. For example, FC Barcelona's forward Leo Messi has 196 million Instagram followers, while his club is followed by "only" 96 million people.
To leverage athlete power, clubs can do the following:
Virtual player meet and greets
Home workout classes
Coaching sessions
Dietary routines
Interviews with players
Fan parties
Hashtag challenges
In early 2021, the NFL organized a virtual meet and greet session through an app:
In partnership with Panini, fans will have an opportunity to collect additional virtual autographs throughout Super Bowl week by downloading the NFL OnePass app and entering the virtual queue to have an autograph card signed by a player or legend, including personalization. [A digital player image and a personalized message for signature – note by the editor.]
In another example, athletes Megan Rapinoe of WMLS and Sue Bird of WNBA launched "A Touch More" IGTV series during the quarantine. It provided a glimpse into the celebrity couple's lives and saw them engaged in various stay-at-home activities, like Sue cutting Megan's hair.
2. Leverage video
Videos are engaging. Marketers recommend creating videos of various lengths and formats to cater to different audiences. Short clips work well for people who watch on the go, and longer videos are great for those who want to sit back and watch more carefully.
When it comes to the format, horizontal videos are great for YouTube and vertical videos work well for Instagram stories, IGTV, and TikTok. Many say that we're now in the age of the vertical video (the so-called "smartphone format"), so it is definitely worth trying out. The goal is to experiment with various lengths and formats!
Here are some ideas for video content:
Behind-the-scenes live streams
Draft broadcasts
Short athlete interviews
Game recaps
'Best moments' videos
'Top 10' countdowns
Club/player evolution (through time) videos
Since it's good to learn from the best, let us share a behind-the-scenes video from F.C. Barcelona published on April 13, 2021. It is a video of the 2020/2021 team's photoshoot – props to them for producing multiple content pieces around the same event: fresh photos are published on Instagram/elsewhere, while the video is shared on YouTube.
3. Explore new social networks (TikTok, Twitch, etc.)
In 2020, TikTok reached close to 1 billion (!) active users, so it can help you attract a wider audience. It's especially great for engaging Generation Z folks – TikTok's core audience are people aged 14 to 24. Plus, the app's "duet" feature allows users to reply to the original video through their own accounts, which increases engagement:
Another platform worth checking out is Twitch. It's mostly a platform for gamers to live-stream their playing sessions, but it's being actively used by sports organisations, too. Twitch is designed for interactivity, which gives fans many opportunities to bond, get involved, and feel a part of the gang.
Paris Saint-Germain soccer club has a Twitch account and I accidentally caught them broadcasting live commentary during a PSG vs. Bayern Munich match from the club's Match Center:
4. Throw watch-together parties
Piggybacking right off of our previous point is another idea. You can throw watch parties, where you and your fans watch the same thing together, on various platforms. In fact, some of your fans may already be doing that even without your knowledge – why not follow suit with your official account!
For example, at the time of the official Paris Saint-Germain broadcast, another Twitch channel – @the90thminuteofficial – organized a watch party in which they also covered the Chelsea Vs FC Porto match.
Another platform to consider is Watch Together by Sceenic. It's a product aimed at B2B customers (inside and outside of the sports industry) who wish to enable co-viewing of live event streams. Sceenic will take care of privacy and security for you and provide you with valuable audience insights like rooms online, time spent in rooms, invitations, and more. Sceenic said they were already working with La Liga, a well-known soccer league from Spain, on providing the watch-along experience to fans.
Yet another option is Discord. Discord is a Slack-meets-Clubhouse communication platform that sprang to prominence during the pandemic. Team UK used the app to engage with fans during the 2018 Soccer World Cup in Russia.
5. Give fans a voice
Your younger fans grew up playing video games. Rather than simply consuming content, they want to have a direct impact on things – they want to be in control.
Many sports brands nowadays allow fans to influence brand choices, player drafts and transfers, and even in-game decisions as a way to increase engagement. Here are some things you can allow your fans to have a say in:
Brand decisions (brand style, sponsors, donations)
Team decisions ( official appointments, player drafts)
Venue decisions (food, performers, music, etc.)
It's up to you how you prefer to implement it. You can do it via social media, though an app, or by other means. Speaking of "other means," we can't help but mention Socios, a blockchain-based fan influence platform. "Socios" means "Partners/Friends" in Spanish. The app is aimed primarily at soccer fans and allows people to support their favorite clubs, influence decisions, and get rewarded for that in cryptocurrency.
Another example, which I personally find mind-blowing, is FCF, or Fan-Controlled Football league. The league allows fans to make choices for their team, including drafting the players, and calling the plays. The way it works is this (from the official video description by FCF):
You call the plays on Twitch, after you pick a team to become a fan of and link your Twitch account to their app. There is a draft every week on Wednesday and games are on Saturday. Both are over Twitch. The teams are all owned by celebrities, and you can get more info on this league at https://www.fcf.io/.
6. Improve fan experience
We have already written about the connected stadium and how it can improve visitor experience. A related tactic is offering fans a highly-personalized viewing experience, which is sometimes called "video-on-command."
The Masters golf tournament partnered with IBM to create a section called My Group inside the competition's app. There, fans can select the golfers they wish to follow. It can be one specific player, or all players from the US, etc. The viewer will see every shot by their selected player(s) in near real time. On top of that, they will also be served must-see shots from the rest of the course intermittently, automatically picked by IBM Watson (the tech company's AI algorithm) for their excitement value.
7. Use gamification
There are multiple ways in which sports leagues and clubs can use gamification to engage fans. Quizzes are one of the simplest options. For example, the NFL organized the "NFL Wild Card Weekend IQ quiz" that allowed fans to test their football knowledge ahead of the wild-card round. The answers were published on the same page the following day (on a Saturday).
If you don't want to spend time putting together a quiz, you can simply interact with fans on social media, asking for their predictions about an upcoming event:
.@treylance09 put on a show for his second Pro Day.

Where do you think the NDSU QB will land in the @NFLDraft? (via @NDSUfootball) pic.twitter.com/wGDwZfXlO3

— NFL (@NFL) April 19, 2021
To increase fan activity, the NFL's data partner PFF created the NFL Mock Draft Simulator that allows fans to "be the General Manager of any team." PFF then analyzed data from over one million fan mock drafts gathered throughout the offseason and ran a separate piece on that.
Yet another option is Fantasy sports. They are designed to keep people more engaged, to watch more carefully, and get more intimately familiar with the game. Some leagues may charge a participation fee, and the winner may keep all the money at the end of the season. And sometimes it's free and just for fun, and the winner can win prizes in the form of brand merchandise. For example, here are Fantasy Tournament rules from the Masters golf website.
8. Organize AR/VR-supported activities
Have you been brushing off partnership offers from up-and-coming AR/VR startups? Perhaps it's time to give them a try. AR/VR-backed activities are very engaging and can get fans talking about your club to family and friends.
The "Pose With The Pros" photo booth that Dallas Cowboys put up at AT&T Stadium in Texas has grabbed many people's attention. The booth allows fans to pick up to five team players and do a group photo with them – only the players are not physically there.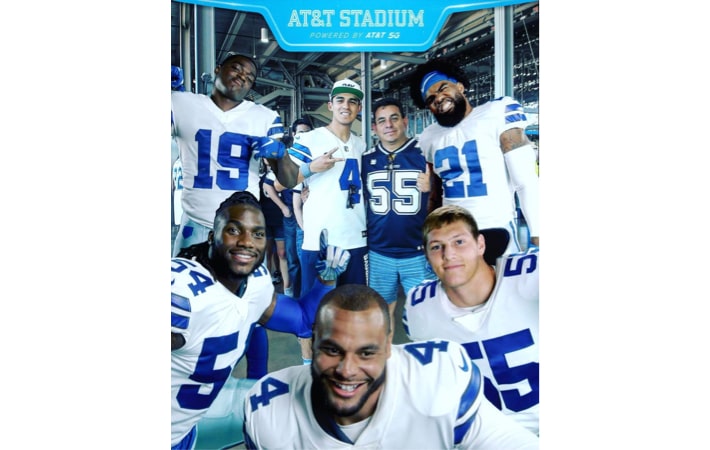 When it comes to VR, some brands have been playing with it, too. Apart from the famous VR-enabled NBA broadcasts, in the world of football, Minnesota Vikings were the first NFL team to build their own Oculus VR application. The app brings fans inside U.S. Bank Stadium and lets them experience various pre-game and in-game moments in 360° format.
9. Use loyalty programs and memberships
Loyalty programs and memberships are a great way to make fans feel appreciated. These programs may come in all sorts of shapes and sizes. It could be exclusive deals for fan club members or season ticket holders – fans who accumulate enough loyalty points can get freebies or discounts on tickets or club merchandise.
For instance, the highly-praised Manchester United official app offers various types of exclusive deals for those who subscribe: the ability to make predictions and win prizes every match day, the ability to pick a favorite player and get exclusive news and updates, and more.
10. Run campaigns with social impact
Right now, everyone wants to have an impact and contribute to the global fight against the coronavirus. If you are doing something in that respect, you can get fans involved. There are so many ways to participate, from charity to home workout campaigns to health tips and raising awareness.
For instance, Seattle Seahawks' Marshawn Lynch teamed up with Dr. Anthony Fauci to discuss vaccine hesitancy during the pandemic:
"Dr. Faucheezy!" ??@MoneyLynch teamed up with Dr. Fauci to spread more awareness and address some concerns about the COVID-19 vaccine.

— Seattle Seahawks (@Seahawks) April 19, 2021
In another example, three large soccer clubs – Real Madrid, FC Barcelona, and Liverpool – organized the #BeActive campaign together with the World Health Organization.
In conclusion
When thinking about fan engagement, it only makes sense to prioritize the fan and their experience over sales. If a league or team focuses too much on immediate benefits like direct impact on sales, it may miss out on opportunities to grow and nurture its fan base in the long run. At the same time, higher engagement allows the organization to strike more lucrative sponsorship and broadcast deals in the future. Fans are what defines any sports organization, after all.
Looking for a reliable IT partner in the sports industry?See how ObjectStyle can help.
Learn More
Digitize
with ObjectStyle
See our work